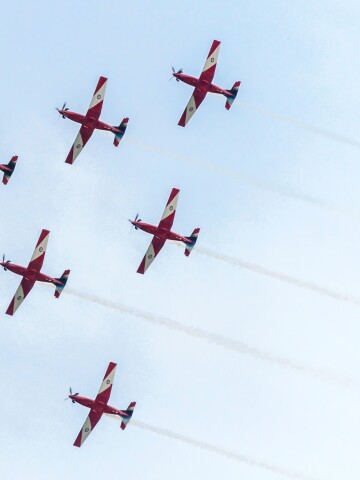 Artificial Intelligence could help us reverse Global Warming
September 21, 2023
Large companies have decided that Artificial Intelligence could be a vital ally in the fight against climate change and global warming. An example of this alliance is Project Contrails which is a joint effort between American Airlines and Google with the objective of mitigating the impacts of aviation on the climate, while also considering notable economic losses that the sector has experienced.
The Contrails are the cloud lines we observe while we are looking at the sky and sometimes we see them being generated behind the plane we are onboard. Contrails are the product of water vapor being condensed around emitted particles by the plane's motors.
The problem with this phenomenon is that aviation significantly contributes to global warming by contributing up to 35% of the emissions that make their way to the ozone layer. In addition to that effect, the clouds that form when a plane passes through a humid region have an even more drastic impact on the atmosphere. However this is when artificial intelligence is able to be a part of the solution by utilizing Google AI to create a method to predetermine the probability of these trails forming based on meteorological, satellite, and flight data. This system uses satellite images and images generated by a computer to detect trails and relate them to specific flights, and then uses this information to propose alternative routes that prevent the formation of these cloud trails.
During the tests with American Airlines planes they were able to test these recommendations generated by artificial intelligence that helped reduce the formation of cloud trails by 54%. Although these measures resulted in additional fuel consumption, the cost to mitigate the climate impact was between 5 to 25 dollars per ton of CO2 which translates to these measures being overall an economical climate solution. Project Contrails is just one of the examples that reveals how artificial intelligence could be a key piece in the fight to resolve the negative impacts resulting from global warming and the environment that are attributed to human activity. Below we will see another example that can inspire the use of this technology in our own company.
Tesla's use of Artificial Intelliegence to mitigate the effects of vehicle emmisions on global warming is another fantastic example when seaking climate friendly solutions. The commitment to this strategy is clearly demonstrated with a 300 million dollar investment in the development of the Dojo supercomputer that is equipped with 10,00 Nvidia GPUs.
What can other companies learn from these strategies?
First of all, they need to emphasize the importance of finding a balance between the short-term and long-term strategy. Clients value what you can offer in order to solve their needs, but at the same time they are increasingly taking into account the companies' purposes and core values, especially related to sustainability. This principle also applies to talent, a crucial asset of a company as more often potential candidates are forgoing opportunities with companies with whom they do not share long-term values.
A second takeaway that companies can use is embracing artificial intelligence as a catalyst for future activities, strategies, and plans. Artificial intelligence is the lever that enables us to be more competitive while becoming more sustainable both environmentally and economically.
What are the next steps for SNGULAR?
At SNGULAR we have the talent, expertise, and experience to integrate digital technologies and artificial intelligence into our company's applications and technological infrastructures. We can also assist with making decisions about how to face these necessary changes that are increasingly demanded by society.
For example, some of our most notable clients in the retail sector already have strategies that prioritize sustainability in all of their digital activity. In fact, they have proposed technology as their main ally to achieve the objective.