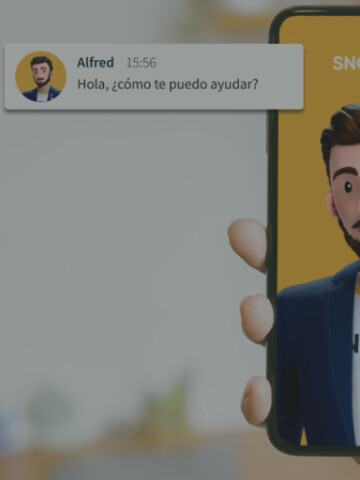 Alfred: your next coworker will be virtual
December 8, 2023
Who is your favorite coworker? Maybe who always reminds you of the meetings you tend to forget, who knows how to read your payslip, or who helps you request a day-off through your company's tricky HR management platform. Or maybe just someone who cheers you up with a joke when you can't cope with a challenging customer request.
You've probably heard someone from SNGULAR talking about Alfred... or you've even met him in person. Don't know who Alfred is? Let's start from the beginning: Alfred is our virtual coworker, a conversational assistant who not only chats with his colleagues but also helps them solve doubts, carry out administrative procedures, send communications to all employees, conduct surveys and extract results, collect routine feedback to know the mood of the staff or create personal reminders and notices. Among other things, Alfred can also tell you jokes or give you the weather forecast if you ask him to. And yes, he also likes to chat.
It may sound like a fantasy, but now it's real and proven. Alfred is our first chatbot for employees. It was created as a pilot, but SNGULAR's Artificial Intelligence team has been continuosuly improving it and adding new functionalities, also refining the conversational experience. Now the time has come to offer Alfred's capabilities to other companies, as its technology is mature enough.
Chatbot as a Service: Corex
Corex is the software architecture on which we have developed Alfred, the virtual coworker who will help your staff carry out simple tasks, manage your work and support your company's Human Resources and Administration departments.
This is how the idea of creating a "Chatbot As A Service" was born: we wanted to turn Alfred into a useful tool for any company that may need it. We wanted to take Alfred out of his comfort zone and share our knowledge with any business that can benefit from it. We offer an innovative solution for internal communication and task management that is able to understand and process natural language conversations, without limits.
A chatbot for HR
Although we have not yet automated tasks such as talent search or other employee satisfaction initiatives, Alfred can perform time-consuming day-to-day tasks for our colleagues who are working in areas such as Human Resources or Administration. This enables them to dedicate more time to initiatives aimed at searching and promoting talent. Here are some examples of tasks that can be automated:
Queries about the work calendar
Salary information
Internal regulations regarding paid leaves, dress code, or the corporate e-mail signature.
Information on health insurance
GDPR definition and application
Wi-Fi passwords
Company mission and vision
Occupational risks
Vacation requests
Information on parental leaves
Generation of employee surveys
Custom reminders
Alfred's knowledge base consists of more than 70 topics about the company, which include specific functionalities (such as reminders or surveys) and informal conversation (greetings and goodbyes, thanks, information on the virtual assistant itself...).
The estimate of the time saved by our Human Resources or Administration colleagues is simple: 70 possible questions multiplied by the number of employees means spending an average of x minutes to reply to each person.
Alfred can answer all questions immediately - that's its star skill - which will allow you to dedicate your time to issues that only you can address. Your new coworker and you will build a team in which your creativity, insight, and ingenuity can be fully leveraged.
In addition, Alfred can generate surveys to get to know employees better and collect feedback (for example, on events or specific decisions), facilitate the onboarding of new hires, or generate alerts and reminders.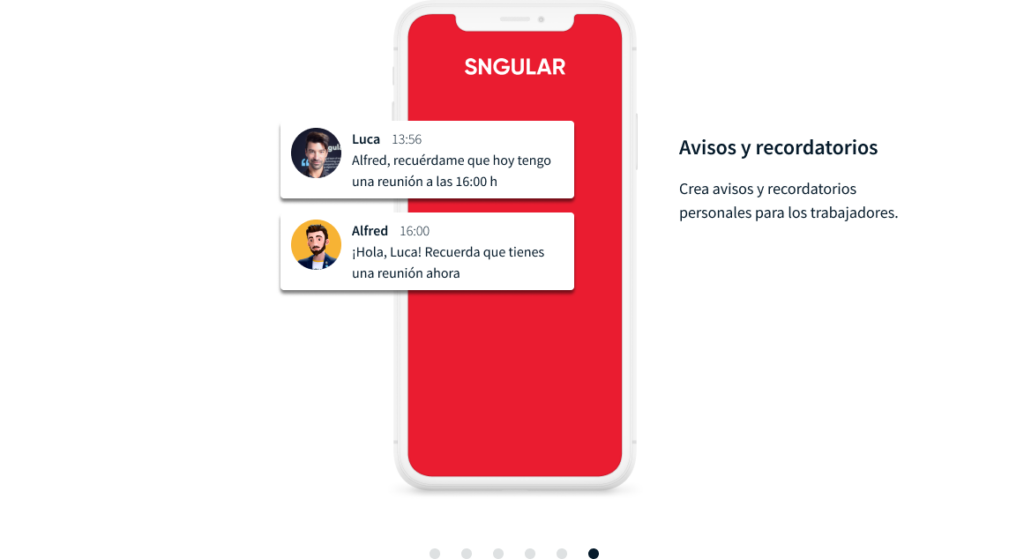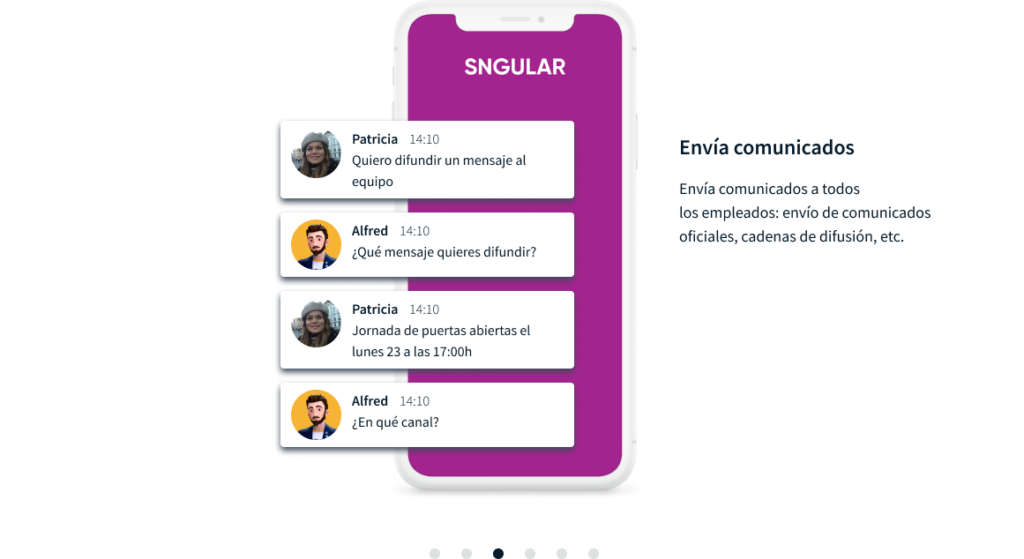 Alfred has been designed to automate all repetitive tasks. In this way, everyone wins: employees feel that they are assisted promptly and, most likely, will use this channel to solve further doubts; on the other hand, the admin & HR teams will feel less burdened with work and will be able to focus on more personal interactions with the workforce. The key is to let your employees spend time on what really matters.
Time efficiency is only one of the advantages (and it is certainly relevant), but we like to think about Alfred as a cross-cutting improvement for the whole staff; other large companies such as Mahou, Naturgy, or ourselves at SNGULAR are already making the most of this communication tool.
We have decided to give you the chance to try this tool and get to know it first hand. Alfred may not be your best workmate (he can't have a coffee with you nor hug you… yet), but we assure you that he keeps a safe distance like no one else.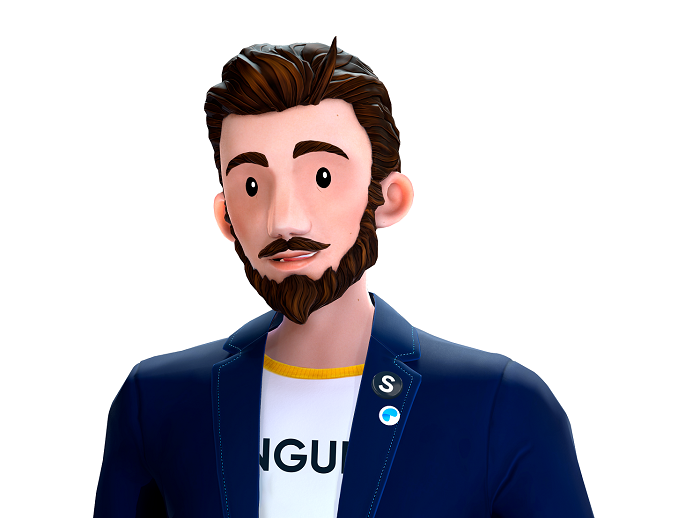 Alfred, your virtual coworker
If you wish, you can try here the basic functionalities of our chatbot for employees. The business version of Alfred is available on several platforms (Slack, Telegram, Google Chat, Microsoft Teams, Dialenga...) and is multilingual.
Note: when we talk about Alfred as a solution, we use the pronouns "it/its"; when we refer to the character, we use "he/him". If you decide to incorporate this tool into your organization, you can choose the gender that best fits your needs.